News Overview
Yaskawa Launches Collaborative Robot MOTOMAN-HC10DTF with a Payload Capacity of 10kg Equipped with Food Specifications
ProductNov 26, 2019
New lining up against food hygiene by surface coating that eliminates the risk of paint shards contamination
Yaskawa Electric Corporation (Head Office: Kitakyushu City, Fukuoka Prefecture; Representative Director and President: Hiroshi Ogasawara) is pleased to announce that it starts sales of the collaborative robot MOTOMAN-HC10DTF (payload capacity: 10kg, maximum reach: 1200mm), which can be installed in food production lines, as a new lineup of collaborative robots.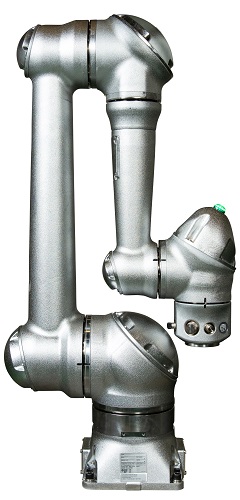 MOTOMAN-HC10DTF
1. Purpose of launch
In recent years, labor shortages have become serious in the food industry, and there has been a growing demand for collaborative robots that can work alongside people without safety fences*1. And yet, it has a difficultly to install industrial robots in production lines where workers need to touch foods directly because of hygiene aspects. In response to these challenges, Yaskawa has launched the MOTOMAN-HC10DTF, a collaborative robot that uses dedicated coating on the surface of the robot to clean the robot. It also uses food grease to ensure the safety and hygiene required in the food production line. Taking over the features of the human collaborative robots MOTOMAN-HC series up to now, this robot can be installed in a limited space because it does not require a safety fence, and can be also easily operated even by customers who are not familiar with robot operations due to safety functions and simple handlings. Alongside with an attention to "food safety", Yaskawa realizes an installation of collaborative robots to customers' food production lines. Yaskawa responds to the diversifying needs of customers not only in the food industry but in various processes, including the transportation in the chemicals and cosmetics industries.
*1: The safety function enables the construction of a system without a safety fence, but a risk assessment must be performed in all cases.
2. Key features
1) A coated surface to eliminate the risk of paint shards contamination for cleaning with cleanser.
By applying dedicated coating, it eliminates the risk of painting shard and ensure safety on the food production line. The robot can also be cleaned with an acid/alkaline cleanser or alcohol*2, contributing to build a sanitary food production line.
*2: The types of cleanser are limited.
2) Adoption of food grease
The robot is adopted with food grease for measuring to reduce the risk of shards contamination which is acquired H1 certification*3, and is minimized the impact on health even if it contaminates the production line.
*3: Food grease that meets the H1 standard specified by NSF (International Foundation for Health Sciences).
3) IEC-standard IP67*4 for all axes with anti-dust and drip-proof protection grade*5
All axes are equipped with IP67 anti-dust and drip-proof structure. Additionally, stainless steel is used for the tip flange.
*4: IP67: Dust does not enter and can be protected against temporary submergence.
*5: The anti-dust and drip-proof protection grade (International protection code) is specified by the IEC (International Electrotechnical Commission).
4) Improved ease of use by position of the connector to the robot tip
By placing the connector at the tip of the arm, it is possible to attach the hand tool directly, which also contributes to shortening the setup time. As to built-in cables, it enables optimizing those with built-in air hoses, which are often used in food transportation, and those with built-in Ethernet cables, which are convenient for placing cameras on the tips of arm.
5) Safe operation and safe design
Taking over the functions of our MOTOMAN-HC series of collaborative robots, MOTOMAN-HC10DTF does not require a safety fences to set up*1. It is equipped with a mode for collaborating with humans that stops operation automatically when external force is detected that exceeds the limitation on values which are set in advance. Its arm is designed in a shape that prevents people's hands from being stuck or pinched, which will improve the flexibilities for production equipment. This design will expand the potential for automationthrough the use of robots at sites that had previously foregone or in processes where it had been difficult for robots to be set up.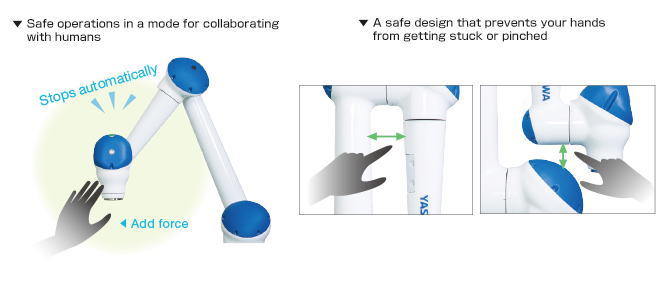 6) Easy operation even if you are not familiar with robot operation
In addition to conventional teaching methods which use a programming pendant, the robot is equipped with a direct teaching feature where the arm of the robot may be held by hand, operated as desired, and instructed to perform selected actions. As instructions are possible through intuitive manipulation, the robot will be easy to introduce to customers who are not accustomed to robotic operations and for processes that require frequent instructions.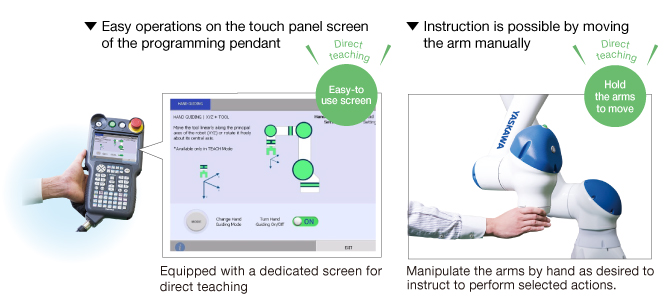 3. Main applications
Transportation of food, serving food material or decoration in the food production process
Transportation of chemicals and cosmetics
*ETHERNET is a trademark of Fuji Xerox.